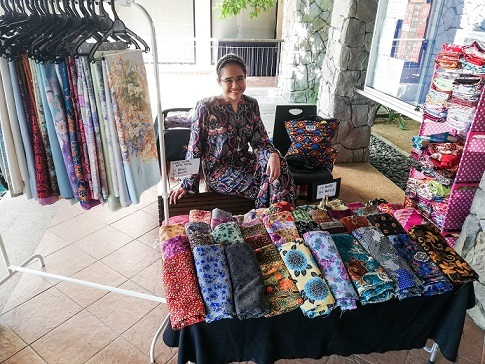 Nyonya Kain – Back in 2019
Starting our first blog today whilst reminiscing on how our pop-up bazaars were like back when we just started late 2018/early 2019. This specific pop-up was in TTDI and it was one of our many events of which we collaborated with the organizers to raise funds for charity as well. From the start, we always aimed to have Nyonya Kain be an enterprise which is not only a sustainable business but an entity that strives to give back to the community and be a role model to others to pursue their hopes and dreams.
When we started, we brought in a range of very beautiful fabrics from all over Malaysia and Indonesia – We sold them in either cuts of 2 metres or 4 metres per set and we had very happy customers from all over Klang Valley. We were actively sourcing for textiles to be brought to our bazaars back then.
There were a few things we identified which we knew we could improve on, namely; working with a tailor to direct our textile customers to, option for ready made clothes, other batik accessories and other products etc. Slowly but surely later on in 2019 various opportunities came of which we managed to produce our own line and slowly move into a dropship system for textiles to manage our costs and inventory planning.
We could have never done it without everyone's support, word of mouth sharing, purchases and recommendations to others. We have grown to become an enterprise which caters to all, men and women, boys and girls, Malaysians and overseas customers. It has been such an amazing journey and we aim to reach for the stars and spread the love for batik and local arts to all!~
Love,
Dayana Reza
-Nyonya Kain-